UX is enabling companies with the tools and methodologies to drive digital transformation and smoothly adopt digital business models.
When the COVID-19 pandemic broke out, more than half of the world moved online, speeding up a digital transformation that has been underway for decades. Children with internet access at home began attending classes remotely using Zoom, Skype, and similar platforms. Working professionals had no choice but to start working from home, and numerous firms adopted digital business models like Salesforce, Hubspot, etc., to maintain operations and preserve their revenue flows.
Meanwhile, mobile applications were developed like Aarogya Setu to help track and trace the stage of the pandemic and control the spread of the virus. Internet traffic in some countries increased up to 60% shortly after the outbreak, which lead to the spark of digital acceleration.
The current health crisis forced many businesses to move online and completely rethink the way they operate. However, successfully undergoing a complete digital transformation isn't always easy. While most traditional companies managed to remain relevant in the new reality, only some of them understood how to do a digital transformation right and succeed.
Source: Netcore
What is digital transformation?
Digital Transformation is the process through which digital technology is implemented into every sphere of business. This process ultimately elevates the structure of operation and adds maximum value to customer needs.
Most businesses that attempt a digital transformation fail without initial investment in research and design. That's because they don't validate risky ideas. One of the main mistakes organizations often make is to pay too much attention to technologies and innovations while underestimating the role of user experience.
And that's where User Experience (UX) Design comes in
User experience (UX) covers every phase of interaction that the users make with the company, its products, and its services. Along with how a product or service behaves technically, it is important to think of how it makes the people feel as they interact with it. Is their experience good, bad, disappointing? Were they frustrated or confused at some points? These are all extremely essential questions to ask.
A good user experience is offered by enhancing the usability and overall appeal of a product. User experience design is a way of providing the right, relevant, impactful, and meaningful experiences to the people who will be using the product. The key aspect of creating products that people like is following a user0-centric approach. UX methodologies focus on people understanding their problems and providing a solution through digital products and services.
Basically, UX Design is making sure your ideas are good, they solve a problem, and they are practical enough to work. That's why UX Design saves your time, money, effort and reduces the risk of your product failing to satisfy users after the release.
Skilled UX and design professionals play a key role in making such user-centric digital transformations happen (check out:- User-centric design- process & benefits). They help in laying out a conversion strategy that ensures that the offline customer experience is being emulated in the online experience. They are equipped with user research methods to understand user pain points and find a solution for them. These solutions are then translated into the online model and the design of the product.
Such deep investigation on users and the issues they face gives designers clarity of what the problem is and what can they offer as a solution. This eliminates a feeling of confusion or uncertainty and gives designers a clear direction to move in.
Source: Medium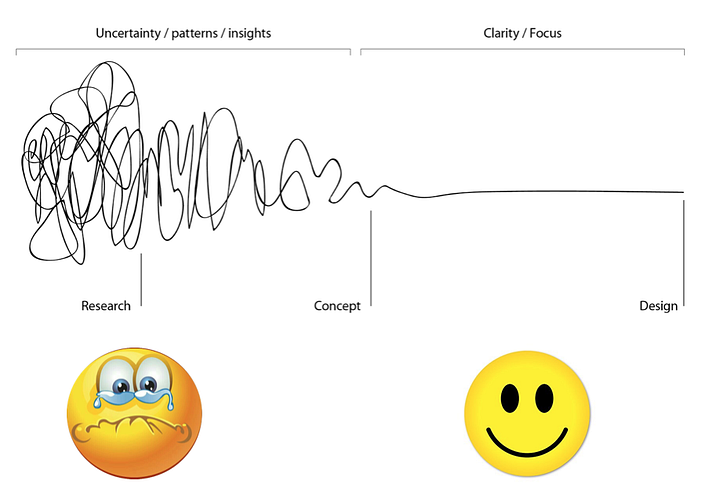 Designers achieve this clarity by following the design thinking process. This process includes five stages in it: empathize, define, ideate, prototype, and test. (Check out — UX Process)
It is a comprehensive, iterative, and non-linear process that guarantees a good user-centric product at the end of it. We can make multiple iterations in the product by testing the concept or the prototype and receiving feedback at any stage of the process. When all of this is done in the early stages of the product development cycle, helps in saving a lot of the company's time and money which leads to lesser production and maintenance costs and more profits.
Conclusion
Digital transformation is not just about using more software tools, implementing new innovative tools, and upgrading a company with a new digital model. When a company decides to implement technologies in its business operations, the way it engages with customers changes plays a central role.
UX Design is necessary for a successful digital transformation. But most importantly, a great customer experience is only achieved when we honestly listen and try to understand our customers.