Understanding how a good design strategy ensures good business
Source: Miro
A UX roadmap is a visual overview of the strategy, vision, and goals for a product created to guide stakeholders on how to implement that strategy optimally. A UX roadmap is an essential tool for startups as it helps in aligning functional and business goals. Understanding the customers is indispensable for a business to be truly successful. While a business strategy and technical know-how can ensure that your product creates a buzz in the market and works well, it will only sustain if you know who your customers are and what they need. That is where user experience design takes the center stage.
"Companies that excel at design grow revenues and shareholder returns at nearly twice the rate of their industry peers."

– The Business Value of Design; McKinsey's award-winning series
A UX roadmap/strategy helps in building empathy with customers, identifying the right problem, finding the best solution, testing your idea, and having measurable deliverables for business. Through a UX roadmap, you can visualize the end goal for your product and identify the steps you need to take to get there. To ensure that you understand your users and are offering them a solution through your product, you have to establish user goals, identify user flows, and create a strategy for executing your plans. It is also crucial for you to prioritize the tasks and stay on track while working on the product strategy.
Why is a UX roadmap important?
A clear and concise product roadmap is essential for startups to ensure they never lose sight of what they have set out to accomplish. A UX roadmap ensures that a company follows a user-centric approach to developing a product. Having a roadmap can help a startup throughout its product development process so there isn't a particular stage where it comes into play.
A few ways in which a UX roadmap helps a startup:
Provide insights into users' needs, motivations, and pain points.
Simplifies the product strategy.
Aligns the stakeholders' vision.
Provides an overview of the business strategy and implementation plan.
Assesses customer desirability, business viability, and technical feasibility of the product.
Simplifies goal tracking.
Enables coordination within and across teams.
How can an expert help you in building a UX Roadmap?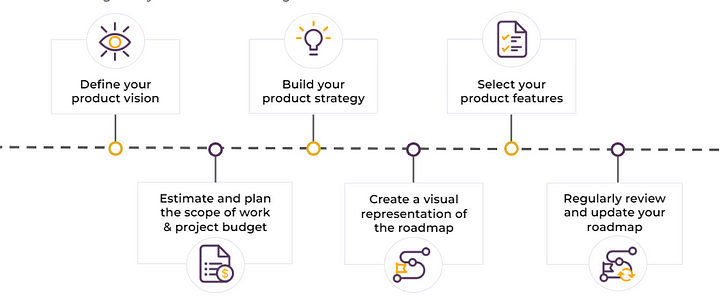 1. Define your product vision
To make sure that you are starting off on the right foot, you need a product vision statement. This statement answers the what, why, and how behind your product design strategy. A product vision statement defines and communicates the underlying purpose of creating a product for your customers. It offers a clear sight of who your product is for, why they need it, what is your product, how can it solve their problem, and how is it different from its competitors.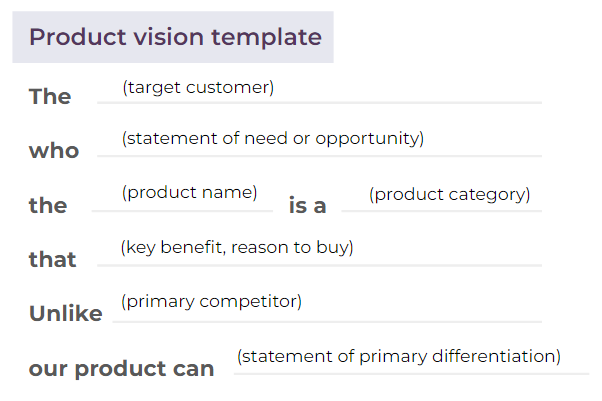 A product vision template to help draft your product vision statement.
2. Build your product strategy
Once you have a clear understanding of the product vision, comes the time to build a fail-proof product strategy. Let's see the steps we can take to achieve this.
Step 1: Understand your customers and research your target market
Empathize and probe into user needs, motivations, and problems.
What are the current market needs for the type of product you want to build? — Identifying the right problem.
How will your product solve your target audience's problems?
What characteristics can make your product stand apart?
Step 2: Draw up a business model
A Lean Canvas is an effective tool for determining principal aspects of your product's operational flow which in turn helps in creating an efficient business model.
3. Select your product features
On the basis of the competitor analysis, user research, and a product strategy in place, it's time to prioritize what features to include in your product. This is achieved by using the MoSCoW prioritization method.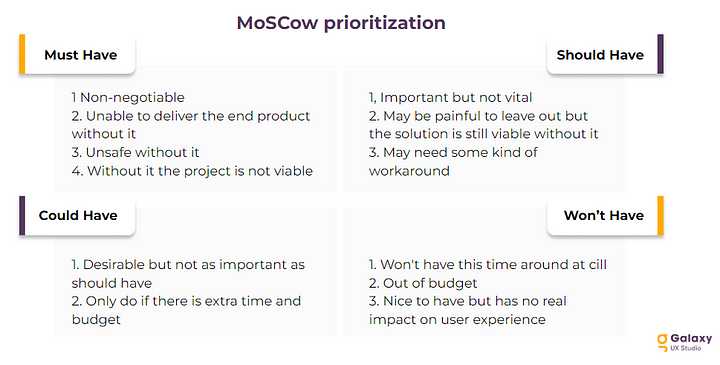 4. Estimate and plan the scope of work & project budget
Defining the scope of work
The scope of work is estimated by the subject matter experts such as UX designers, developers, and QA engineers. They will do so by breaking down the work/features into tasks and estimating those tasks in hours or story points. With the right combination of experts, their skills, and competencies, a project release plan is created.
Estimating the project budget
Drawing upon the preceding stages of the estimation process will enable the team to calculate the number of resources, capital, and man-hours that will go into the project.
5. Create a visual representation of the roadmap
The purpose of a roadmap is to let everyone involved catch the essence of the product strategy and implementation plan at a glance. That's why it's critical to illustrate a roadmap in a concise, comprehensive, and visual manner so that it's easy to grasp.
6. Regularly review and update your roadmap
A product roadmap is a dynamic artifact that needs to be updated as your product evolves. The frequency of updating a roadmap depends on various factors, such as market volatility, product strategy, and customer feedback. According to a survey by ProductPlan, over 30% of product managers update product roadmaps monthly, while about 25% update roadmaps weekly and another 25% update them quarterly.
Conclusion
A UX roadmap can help your business in many ways, from understanding your target customers, identifying the right problem, ideating potential solutions, and creating prototypes to testing them with real users. In addition, it helps in developing a plan that works with your brand's goals and timeframe and finding the right UX team for your project.
It is always wise to seek assistance from experts in the field of UX who can help you take the user-centric path to create a product strategy with deliverables of measurable value complementing the business goals. Such a synergy of product goals and vision instilled by a UX roadmap across the board plays a vital role in ensuring product acceptance by customers, good user conversion, and retention rates.
Need help with creating a UX roadmap for your startup? Check out Startup Packages & Customizable plans for your UX needs.