Let's dig into the past
Over the past few decades, the evolution in both hardware and software technologies have been huge. Back in the 1980's, when personal computers came into the market, that was the breaking point in the technology market. On the other hand, the internet was growing along with other technologies, helping in enabling easy access to information for everyone. After that high breaking point in the market, the products we use now to access information or to perform a task is just an advancement of its parent technology.
After 30 years, from 2020, it's the start of a new era of "Extended Reality".
NOW, What is XR?
Extended reality defines anything or everything that uses technologies like virtual, augmented, and mixed reality. XR is considered to be a computer art form that focuses on interactivity, immersion, productivity, and retention.
Right now, XR is widely considered to be an extension of Virtual or Augmented Reality. However, the whole technology is beyond that. If you are still not able to figure out what XR is and how it would look, check the products like Hololens or Google Glasses and you'll know what I mean.
Why is XR the future?
Extended reality experiences that combines the real world and the virtual world have seen a huge growth in adoption during the pandemic period. Research shows that the market for AR is expected to grow from $15.3 billion in 2020 to $77.0 billion by 2025. Similarly, the virtual reality (VR) market is expected tol grow from $6.1 billion in 2020 to $20.9 billion by 2025.
During lockdown, industries such as e-commerce, digital technology, retail, media, entertainment, etc., caused the XR technologies to grow, as they highly rely on new customer experiences. This opened up the market for XR creating new customer expectations that have the potential to offer services with immersive and interactive experiences.
The post pandemic life leads big companies with innovation and pushes them at the centre of this technological evolution. All these companies try to connect with their customers by changing the customer's expectation by offering something completely new and futuristic.
Business and the big players of XR
Tech giants like Meta, Google, Nvidia, Snapdragon, and Microsoft have invested billions of dollars in XR research projects and virtual spaces. Hardware and software industries believe that there is a huge market gap and potential scope for XR in the future.
In 2020, more than a billion dollars worth of VR headsets were sold and millions of devices are set to be in the wild by the time the calendar hits 2023. This is owing to the fact that people have more money on them and are willing to spend hefty amounts on personal devices than they used to. Meta has recently released prototypes of four of their upcoming products/devices. Snapdragon is in the process of making the most compact and efficient VR devices.
Recently, individual users have much more money to spend on personal XR devices than before (at least better than before), so companies are trying their best to make devices for XR affordable.
All these products blur the line between man-made and reality, allowing us to blend the two in new ways. The Extended Reality technology is now the new frontier of human-centric interactions and wholesome experiences.
Bridging the real world and virtual world together
It seems that only the gaming industry has a lot of VR potential. The fact is, VR is widely used in many industries and it blends the real world with the virtual world. In the next 10 years, there is a high chance of an industrial shift from digital space to virtual space like how it was 10 years back from paper to digital. From education to shopping to personal needs, VR is going to play an important role!
Unlike virtual reality, augmented reality doesn't always need a headset to see the virtual space. The cameras on the phone, and tablets can do the work.
Speaking of mobile phones, the next generation of smartphones are not smartphones. They are smart glasses!
By 2025, XR will be potentially used by various industries.
Already, it is being used in medical industries and retail industries. The overall shopping experience in e-commerce is going to change significantly. The shift is going to be real with MR concepts.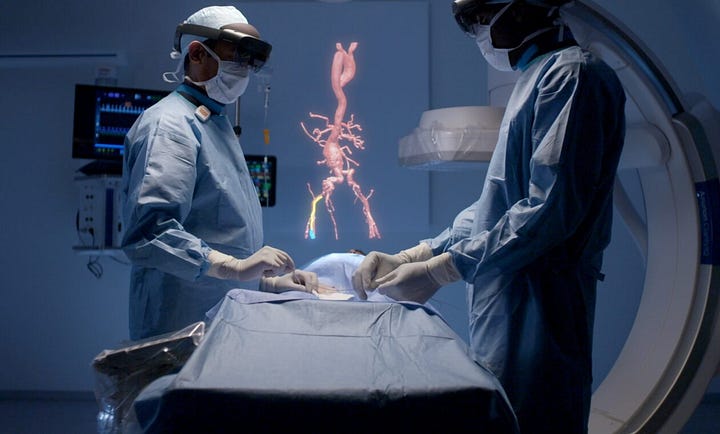 Imagine wearing a smart glass and shopping virtually online where you can get into the shop, try on shopping items, pay, and get it in real life, from one place. This is the concept Nike is planning to do in the future to enhance their shopping experience and attract more customers. Already AR has been used for 3D shopping experiences and virtual try ons. For example, Amazon, H&M bought a land in the virtual space and they would potentially build a virtual store for digital assets. This technology is meant to become a integral part of people's lives as they are going to have XR in everything they do, from shopping for shoes to setting up their living room.
Finally, the future predictions!
XR would bring the most realistic experience of space travel. Viewers will be able to travel with the astronaut to the moon or mars.
Real estate, digital assets, and cryptocurrencies in virtual space might get included in the will.
Keyboard, mouse, and flatscreens will be replaced by smart glasses and chips leading to the new interface control.
Customer services might be delivered by digital humans and remote support with XR help.
Internet domain names or addresses will be replaced with codes.
Education will be through digital campus and assets.
Tourism will be through VR, from your home.
Synthetic data generated from a simulated world will guide robots to solve problems and save the world.
XR will create brain-driven interfaces.
So cool right? Well, let's hope such technologies help us grow leaps and bounds as humans and enable us to live smartly and consciously on this planet.
References:
https://assets.kpmg.com/content/dam/kpmg/au/pdf/2022/future-of-XR-white-paper.pdf
https://www.futurebusinesstech.com/blog/virtual-reality-2030-10000-timelapse-of-future-technologies
https://www.forbes.com/sites/verizon-media/2021/06/15/the-future-of-xr-in-a-post-pandemic-world
https://www.hire-intelligence.co.uk/the-future-of-xr/
https://acodez.in/what-is-extended-reality/
https://pixovr.com/xr-applications-and-use-cases/
https://www.qualcomm.com/news/onq/2018/09/boundless-xr-new-era-distributed-computing
https://successive.tech/blog/extended-reality-xr%E2%80%8A-%E2%80%8Ahow-it-is-different-from-ar-and-vr-and-future-scope