Observation and ideas go hand in hand. Great ideas come out of good observation and so in design, it is really important to have an eye for what is good and what is not.
Minute observations in Everything, Everyday!
In our everyday world, we are surrounded by things that are designed with an intention and all we need to do is to pay attention and have an eye for detail. We can start with any day-to-day activity such as deciding on a pretty dress, selecting good furniture and deciding on logos or colors for a brand. Before making a selection, we need to stop for a moment and THINK about why is this logo unique, why this style is chosen, and why does a particular color go well with the other? We need to take a deeper dive into the meaning and idea behind everything. When we start developing an eye for design through such daily activities, we start to spot design concepts and ideas all around us.
We begin to understand the principles of space, ratios, balance, color schemes, contrasts, typography, and shapes. Such everyday observations familiarize us psychologically with the patterns and rules of design around us. We subconsciously develop a basic sense of design that guides our design-related decisions such as which two colors will go well together, how much should you keep the contrast, how much space makes the design look clear, etc. It preconditions our mind to see the world as a manifestation of different design concepts and principles.
Good application design and web designs
There are a lot of applications and websites with the best design inspiration. To get design ideas, there are platforms like Dribbble, Behance, Awwwards, Mobbin. design, and many more.
We can notice what's good in those designs by observing some standard features like:
Spacing
Balance
Typography
Color
Style
Icons & Illustrations
Content & Hierarchy
We need to go through a lot of references and examples to decide which one is good, which is better, and what's best!
Ways to ace your observation game
The key idea behind this is keeping an eye for detail in our observation.
Copy existing designs
One way to do it is by copying other designs. Just simply copy the design of the apps or websites you like such as Spotify, Apple, Airbnb, etc. When we copy something as it is, we tend to understand a lot of insights that we will never understand if we just scroll through them. The same thing happens when we drive a car, if we drive on our own we tend to remember directions, speed breakers, and the best or wrong routes which we would never get to know if we are in the back seat because we don't notice as much.
Work on self-initiated projects
Another best way to develop an eye for design is to take a self-chosen project and then work on its redesign and follow some mandatory design rules of heuristic evaluation, competitive research, ideation, and user feedback.
Get feedback from your peers
Often when we are into designing something, we lose control of differentiating between what's good and what's not, which may be due to the overload of information. So, it's really important to get constant feedback from our fellow workers, friends, and/or end-users, who are looking at it for the first time. They make it easy to judge the design and provide constructive feedback.
Make a design catalog — Moodboard
Taking design inspiration is an essential practice to design good interfaces. One way of gathering inspiring designs is to create a catalog or a folder containing screenshots of good designs for future references. Observation is one thing but. it is equally important to implement those ideas in your work and bring those observations to practice.
The practice of mood boarding is a proven technique to draw design inspiration from various sources before starting a new project. You can create mood boards by pulling in design samples, color schemes, and typography references to ideate and design something unique from these combinations. It helps us gain a direction for the design and create fresh and innovative designs with the most creative ideas in our minds.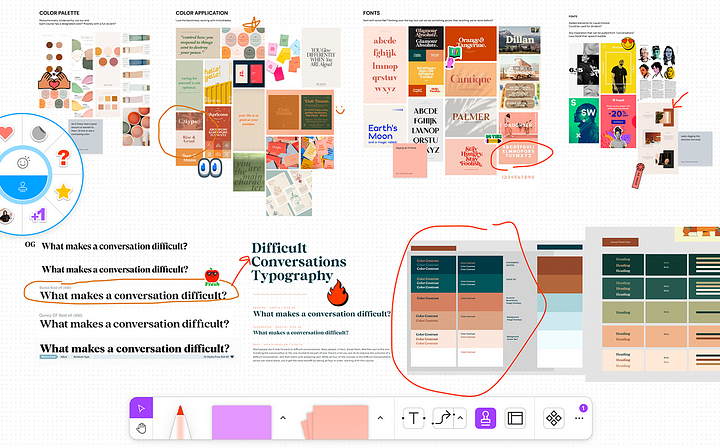 Final thoughts
We have to understand the thought, concept, and approach behind a design by observing it. We must then try to bring our observation to practice and constructively take feedback to seek improvements in our work. Becoming a good designer is an iterative process where we must always learn and keep improving.
It's not necessary to be exceptionally creative to create good designs. Everyone, regardless of their creative prowess, is capable of producing good designs. All we need to do is to keep our eyes open, look around, pay attention, make keen observations, collect good design samples, and follow that inspiration to create something you can call yours.